Branch Transactions are falling, Branch Staff is reducing, Digital Capabilities are improving but there is wide gap between banks and credit unions on their migration success.

We believe that there are two main problems inhibiting financial institution's Self Serve Adoption success.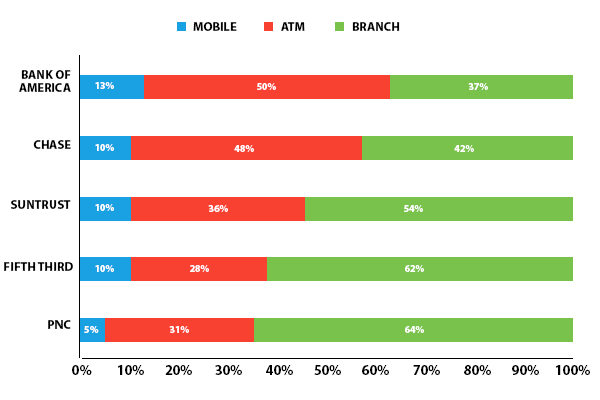 MOBILE & ATM DEPOSITS
The competitive landscape highlights that there is a large gap between national and regional players and an even bigger gap between those players and community banks and credit unions.
We implemented one of the first Mobile Remote Deposit Capture solutions as well as an envelope free deposit ATM for a top 10 bank. This resulted in a 100% lift for ATM deposits after only its first month.
We can help with your self serve deposits by leveraging our Playbook that is filled with proven tactics and best practices to increase deposit adoption rates.
 
SERVICE MIGRATION
One of the critical hurdles to self serve migration success is your own employee. Often branch and call center employees aren't familiar with your own customer digital capabilities. Every employee, regardless of their position should be an evangelist to your online services.
There is also a communication disconnect between digital, branch and call center. When digital enhancements happen, branch and call center should be a part a prioritization process.
We will identify your gaps in employee education and training as well as establish a process flow that ensures collaboration between the channels.
This will result in increased self-service integrations that will free up branch capacity to drive revenue and redeploy Contact Center employees to better value-add activities.